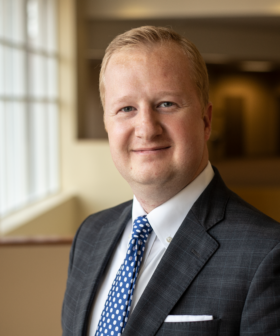 A native Texan, I have lived also in Montana, Colorado, North Carolina, and now Tennessee. Sharayah and I will soon celebrate our 10th wedding anniversary, and we have a 4-year-old son and a 1-year-old daughter. Our children keep our home filled with energy, laughter, and immense joy. The exuberant family dog, a Maltese-Poodle, completes the Colter household. I came to faith in Christ through an evangelistic Christian camp in Colorado at the age of 9. However, it was during high school, while preparing to study business in college, that I felt a call to vocational ministry. As that call was confirmed, I began studying and preparing for ministry at a Bible college in North Carolina, a Southern Baptist seminary in Texas, and ultimately through Mid-America's distance doctoral program.
Prior to coming to Mid-America, I served as the Executive Director of the Sandy Creek Foundation in Dallas, Texas. This non-profit religious foundation facilitated international and domestic ministry, mission work, evangelism, theological publications, and cultural engagement. Before leading the Sandy Creek Foundation, I served for more than a decade at Southwestern Baptist Theological Seminary where I worked ultimately as the Chief of Staff to the President and served in the institution's executive cabinet. I also oversaw the work of the research doctoral office and later served as the Director of Institutional Advancement. In ministry, I served as an associate to the senior pastor at Birchman Baptist Church in Fort Worth, Texas.  As an alumnus of Mid-America, Dr. Robert Pearle confidently recommended the seminary to me as I considered the best place to complete my Doctor of Philosophy degree.
As the Director of Strategic Initiatives, I partner with and support those already serving at Mid-America to assist in ways that further strengthen and propel the institution as they fulfill their divine mission and mandate. With more than seven billion individuals currently residing on the globe, never has there been a more strategic opportunity to reach an ever-changing world with the never-changing message of hope found only in Christ. My role will be to perpetuate the message and work of Mid-America through strategic relationships and initiatives with like-minded churches, individuals, and organizations to increase awareness of the tremendous theological training being provided through the seminary and college. Mid-America is embracing an unparalleled opportunity to equip Baptist pastors and ministers who will serve literally around the world—it is an honor to work as a small part of this vast effort.
Conservative, evangelical Christians are currently facing unique and unprecedented challenges across our nation and around the world. However, along with these challenges also comes unprecedented opportunity. Mid-America is strategically educating and preparing the next generation of Baptist leaders, pastors, missionaries, and ministers. Graduates of Mid-America depart the campus with a Bible in their hands and a message in their heart—a message of hope and satisfaction that are only available through a personal relationship with Christ.  The gospel message carries eternal consequences, and there is no more important task to which a person can devote his or her life. Mid-America is reaching the world for Christ, and it is my great honor to join them and propagate this remarkable work however I am able.
Christianity does not exist in a vacuum. We stand on the shoulders of giants who have faithfully gone before us—often sacrificing at extreme personal cost—to pass on to us an orthodox faith. I pray that in my generation, I would be found faithful and courageous as we contend earnestly for the faith that was once for all delivered to the saints.
Z. Scott Colter, PhD
Director of Strategic Initiatives
Assistant Professor of Practical Theology
Education
Advanced MDiv, Southwestern Baptist Theological Seminary; PhD, Mid-America Baptist Theological Seminary.
Professional Experience
Executive Director, Conservative Baptist Network, current; Executive Director, Sandy Creek Foundation, 2018-2021; Chief of Staff, Office of the President, Southwestern Baptist Theological Seminary, 2016-2018; Director of Operations, Office of Institutional Advancement, Southwestern Baptist Theological Seminary, 2014-2016; Executive Assistant, Office of the Academic Dean, Southwestern Baptist Theological Seminary, 2011-2014; Research Associate/Teaching Assistant, Southwestern Baptist Theological Seminary, 2008-2011.
Field Experience
Pastoral Ministry Associate, Birchman Baptist Church, Fort Worth, Texas 2009-2018.
Memberships
Steering Council member, the Conservative Baptist Network; Evangelical Theological Society; Evangelical Homiletical Society; Alliance Defending Freedom.
Recognition
Recipient of the Beverly and Al Fasol Preaching Award