Executive Leadership
Dr. Michael Spradlin
President
Dr. Michael Spradlin has been president of Mid-America Baptist Theological Seminary since 1997 and is only the second person to have served as the President of Mid-America. Before then, he served as Director of the Northeast Branch of Mid-America in Schenectady, New York. A gifted speaker and preacher of God's Word, Dr. Spradlin created the Seminary's Live by the Word podcast, a verse-by-verse study through books of the Bible.
Dr. Spradlin graduated from Ouachita Baptist University in Arkadelphia, Arkansas, where he earned a BA. He continued his education at Mid-America Baptist Theological Seminary in Memphis, Tennessee, earning an MDIV and a PhD with his major field of study being Old Testament and Hebrew.
Dr. Spradlin is married to Lee Ann, and they have three children: David (Laurel), Thomas (Madelyn), and Laura (Cody). He is a committed member of Campus Church and spends many Sundays as a guest preacher at churches throughout the country. Dr. Spradlin is an avid runner who participates annually in the St. Jude's Marathon and competes regularly in races throughout the year.
CONTACT DR. SPRADLIN'S OFFICE
---
Dr. Bradley Thompson
executive Vice-President and Dean of the College
Dr. Bradley Thompson was saved at age 9 at the First Southern Baptist Church of San Diego, California. He was called into Gospel ministry at age 17 and later earned a BA in Biblical Studies from Criswell College (1984), an MDIV from Mid-America Baptist Theological Seminary (1988), a PhD from The Southern Baptist Theological Seminary (2001), and an EdD from Columbia University (2014). Before joining the Mid-America faculty and staff in June 1998, he served as a youth minister in a Memphis-area church and as executive pastor of three churches, two in Georgia and one in Tennessee.
Dr. Thompson married his childhood sweetheart, Susan Hampton, in 1982. They have four adult children: Nathan, Sarah, Stephen, and Hannah.
Dr. Thompson serves as Executive Vice President, Dean of The College at Mid-America, Professor of Christian Ministries, and Chairman of the Department of Christian Ministries. He is a member of Kappa Delta Pi, the International Honor Society in Education, and the Society of Professors of Christian Education. He writes on the topics of learning, education, and leadership.
CONTACT DR. THOMPSON'S OFFICE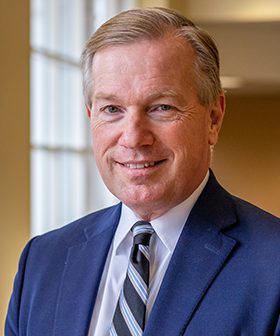 ---
Dr. Mikey Mewborn
VICE PRESIDENT OF STUDENT LIFE AND Dean of the seminary
Dr. Mikey Mewborn spent most of his early years living in the beautiful city of Tampa, Florida. In 1986, the Mewborn family moved to Memphis, Tennessee, seeking new job opportunities. While in Memphis, Dr. Mewborn surrendered his life to Jesus Christ at Hickory Ridge Baptist Church. Two years later, the Mewborn family moved back to Tampa, where they lived until Dr. Mewborn graduated from the University of South Florida (Go Bulls!). After much prayer and consideration, he returned to Memphis to pursue a Master of Divinity degree at Mid-America. He graduated from Mid-America with his Master of Divinity in 2005 and applied for the PhD program a few years later. In 2014, Dr. Mewborn graduated with his PhD in Practical Theology.
Over the last several years, Dr. Mewborn has ministered at wonderful churches, including Davis Islands Baptist Church (Tampa, Florida), Bellevue Baptist Church (Cordova, Tennessee), and Collierville First Baptist Church (Collierville, Tennessee). In 2010, Dr. Mewborn was called to be the senior pastor of Emmanuel Baptist Church of Collierville, Tennessee. He served EBC for nine fantastic years until his transition to Mid-America Baptist Theological Seminary.
Dr. Mikey Mewborn currently serves as Dean of the Seminary as well as Vice President of Student Life. He is married to his beautiful wife, Dr. Emily Mewborn. They are the proud parents of John "Wesley" Mewborn.
CONTACT DR. MEWBORN'S OFFICE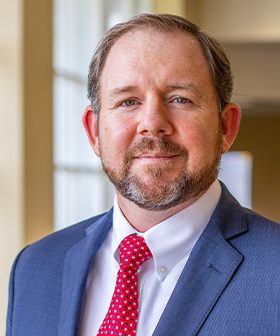 ---
Dr. Randy Redd
chief financial officer
Dr. Redd was born in Tyler, Texas where he went to First Baptist Church every time the doors were open. At the age of 9 he received Jesus Christ as his personal Savior and Lord. He earned a Bachelor of Business Administration from Baylor University in 1982 and followed with a Master of Business Administration from The University of Texas at Tyler in 1985. Dr. Redd earned a PhD in Strategic Management from Sullivan University in 2017. He worked in the Oil & Gas industry in East Texas for a number of years prior to accepting the position of Executive Director of Christian Mission Concerns Foundation. It was that position that moved Dr. Redd to the Memphis area in 1986. He met his wife Melanie at Bellevue Baptist Church in 1989, and they were married in September of 1990. They have two children.
Dr. Redd serves as the Vice President for Finance and Operations, CFO, and Assistant Professor of Business Administration and Management. He also serves as Minister of Music at Gracepoint Baptist Church in Cordova, TN where he attends. Prior ministry experience includes serving as Interim Pastor at Ellendale Baptist Church, Administrative Pastor at Englewood Baptist Church in Rocky Mount, NC, Minister of Church Programming at Bellevue Baptist Church in Cordova, TN, and Minister of Church Growth at First Baptist Church of Snellville, GA. He holds membership in the Association of Business Administrators of Christian Colleges, the National Association of Business Officers, and the National Association of College and University Business Officers. In 2016, he was inducted into Sigma Beta Delta the International Honor Society for Business, Management, and Administration. He has business experience in Oil & Gas, Real Estate, Sales, Shipping, Utilities as well as serving on staff for over twenty-one years at five Southern Baptist Churches. In addition to his teaching at MABTS and area pulpit supply, Dr. Redd has taught in Men's Ministry, Evangelism Training, Volunteer Ministries Training, and at various Discipleship Conferences.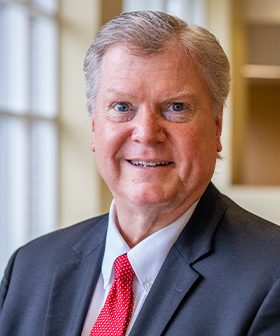 CONTACT DR. REDD'S OFFICE
---