Jun 26, 2023
Putting the 'Service' in Church Service
by Mid-America Communications
Mid-America's new Pulpit Supply Program (PSP) is truly an all-around "win-win-win." Supplying churches with a preacher to stand in during the absence of a regular pastor, the PSP is a win for the church who is guaranteed solid, biblical preaching. It's a win for the student preacher who gains invaluable experience, and it's a win for the Gospel which is proclaimed with clarity and without compromise. One of Mid-America's seven Core Values is Service, and the PSP is a good example of how the school really puts the "service" in church service.
Mid-America MDIV student Klayton Carson (above) is the program founder and student director of the PSP. He was a student at Liberty University when he first saw a similar preaching program his school operated. Years later, memory of that program provided the inspiration for Carson to initiate something similar at Mid-America, leading to the birth of the new Pulpit Supply Program.
"It's hard to find someone week to week," Carson said of churches needing preachers to fill pulpits. "Mid-America loves local churches, and we get to serve local churches in that way."
Currently, the Mid-America PSP has drawn about 20 students to participate, all of whom share a singular focus on preaching the Scriptures.
"I don't tell any of the preachers what to preach," Carson said. "The only thing that's required of the preachers is that they preach the Bible. It may be the only time that this church ever gets to hear something you really want to say, something that you believe is necessary for that time. There's a lot of trust in the preachers, and they really want to tell people what the Bible says."
At its center, the PSP displays a compassionate love for greater Memphis.
"It shows Mid-America's heart for local churches as well as that we're there for them," Carson said. "We'll put in the work to get students to them when they're in that time of need. When they're in trouble, when a pastor gets sick, when he needs time off, or when a pastor moves from a church and the church needs someone to fill in, I want the first thing the churches think to be, 'Mid-America is nearby. Let's call them. Mid-America is there for us.'"
In the Q&A below, Carson explains the many benefits of this vital ministry:
What is the Pulpit Supply Program?
The program is an opportunity for Mid-America men, from associates to PhD, to serve local churches in the greater Memphis area through preaching. It serves churches whose pastor is unable to preach as well as churches that are in between pastorates. The PSP facilitates connecting a preacher to a preaching mentor. The program also offers a monthly preaching class called the School of the Prophets, which all men at Mid-America are invited to attend, both in-person or virtually. The name of the class, "School of the Prophets," pays tribute not only to the groups mentioned in 1 Samuel 19 and 2 Kings 2 but also to the original name that Mid-America operated under for one year in 1972.
What are the benefits of the PSP to churches?
The benefits of the program to churches come in different ways. For the church that has a pastor, it benefits them in that their pastor can have a day of rest. Furthermore, many churches that have only one pastor often are stuck whenever he goes on vacation or even on a mission trip. The Pulpit Supply Program is able to come alongside that under-shepherd and give them the opportunity to rest. The program also benefits churches that are without a pastor. These churches are searching for a pastor, but it can be hard to stay together in the meantime. The program serves as a bridge. We provide the church with someone to preach so they can continue gathering as the body of Christ.
One other benefit is that these churches get to see young men who are dedicated to the Lordship of Christ. In a culture where it seems like every younger generation is slipping further and further away from Christ, these churches get to see the Lord working through young men who are not slipping away.
What are the benefits of the PSP to preachers in training?
The program provides a place to practice what these young men have been called to do. It's difficult for local churches to provide preaching opportunities for young men trained for ministry, so this program creates opportunities for these young preachers to preach while still being able to remain active in their local church, go to school, and prepare for their future ministry.
The School of the Prophets monthly preaching class benefits students by allowing them to engage with experienced preachers and getting to ask that preacher specific questions. This was best seen with Dr. Steven Smith at the January 2023 School of the Prophets event. Dr. Smith spoke briefly on 2 Corinthians 4:5 and then spent over 40 minutes answering questions from students. The questions ranged from illustrations to delivery and everything in between.
What sets Mid-America-trained preachers apart?
What sets Mid-America preachers apart is their desire. The men who have joined the Pulpit Supply Program desire to preach, to make much of Jesus, to study, and to learn. All of the preachers in the program have the itch to preach, and they are always ready to preach when called upon.
---
If you would like to have a Mid-America student fill your pulpit or to preach a revival event or other special service, contact Klayton Carson at KACarson01@mabts.edu.
Testimonies about the Pulpit Supply Program
Brad Case, Leadership Team member, Ebenezer Church, Mason, Tennessee
We are profoundly grateful for Mid-America's Pulpit Supply Program and highly recommend it for churches looking for an excellent source of student pastors. We can state with confidence that the program is an invaluable asset for churches in need of a pastor, and we are thankful for all that Mid-America has done to provide us with such amazing students.
Aaron Russell, Junior at The College at Mid-America
The Pulpit Supply Program at Mid-America has been such a blessing to both the student body and the community of churches we are able to reach! As a young preacher involved in the program, I have grown much more in my skill and dedication to the art of preaching as a result of the program, and hope to continue to do so while I am still here. I am forever grateful!
Andre Randolph, PhD student at Mid-America Baptist Theological Seminary
At Calvary Baptist Church one Sunday, after I'd concluded my sermon with prayer, one of the congregants noticed that the elderly sister sitting next to her still had her head down and eyes closed. They eventually called 911 and found out that she suffered from a serious medical condition. The next time I preached there, not only was that elderly sister there, but she was trying to encourage me. She told me the sermon was helpful and even remembered the passage from which I preached. Being there with her when this horrific experience happened to her really endeared me to her and that church. To me, that's what this program is all about.
Collin McAdams, Freshman at The College at Mid-America
As a new student at Mid-America, the Pulpit Supply Program has been a fantastic opportunity for me to gain experience preaching and help churches without a pastor. It has allowed me to preach at seven different churches in both Tennessee and Arkansas. The School of the Prophets class has allowed me to learn from some of the greatest preachers to prepare me to preach for these churches. I was also put in contact with a preacher named Dr. Timothy Pigg, who has personally worked with me so that the congregations can hear great sermons every week.
---
Statistics after only a few months of service—and growing each week!…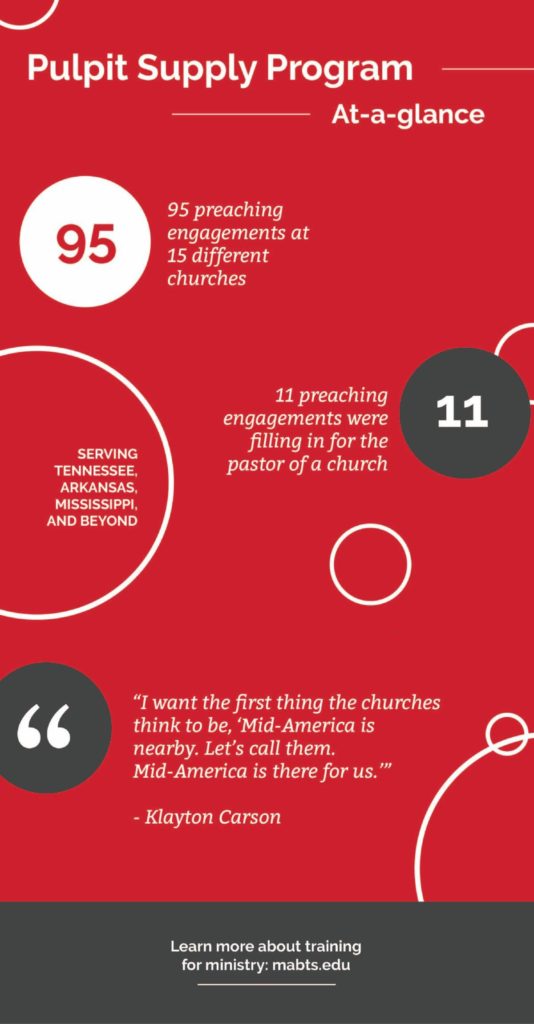 more information about The School of the Prophets
The School of the Prophets is not just for Pulpit Supply Program participants; all men at Mid-America are invited to attend, both in-person or virtually. The School of the Prophets preaching class features guest teachers with preaching expertise who impart wisdom from their experience and spend time engaging in question and answer sessions with interested students. This class supplements the traditional preaching classes associated with seminary education and provides valuable opportunities for questions to be fielded by well-trained expositors of God's Word. 
If you would like to attend the next School of the Prophets event, contact Klayton Carson at KACarson01@mabts.edu.