Welcome Association of Certified Biblical Counselors
Mid-America is honored to cosponsor the 2022 Annual Conference of the Association of Certified Biblical Counselors (ACBC). This year marks our second time serving as a sponsor for this conference (first time was 2019), and it signals our growing relationship with ACBC as well as our ever-expanding commitment to equipping biblical counselors. Mid-America was recently selected as an official Certified Training Center for the Association of Certified Biblical Counselors (ACBC).
The honor from ACBC is the latest in a series of developments that sets Mid-America at the forefront of the rapidly growing field of biblical counseling. A key step forward occurred in 2020 when Mid-America added Dr. John Babler to its faculty as Chairman of the Biblical Counseling department.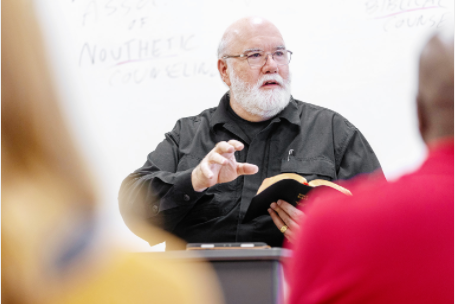 An alumnus of and professor at Southwestern Baptist Theological Seminary for 28 years, Dr. Babler is nationally renowned as a leader in the growing movement of biblical counseling that views Scripture as fully sufficient for applying God's truth to people's lives. Dr. Babler also serves as a Fellow and Trustee for the Association of Certified Biblical Counselors.
Committed to the sufficiency and inerrancy of Scripture since its founding 50 years ago, Mid-America gained such a reputation for academic excellence and conservative theology that in 2015 its biblical counseling department received another boost from Dr. Jay E. Adams, the founder of the biblical counseling movement and the Institute for Nouthetic Studies. In 1970, Dr. Adams wrote Competent to Counsel, the book that began the biblical counseling movement, and he has authored more than 100 other books. Mid-America partnered with Dr. Adams to build a counseling curriculum that is faithful to the Scriptures, academically rigorous, and intensely practical.
Mid-America's biblical counseling program offers students the highest quality training in biblical counseling, including five fully accredited degree programs, plus two certificate options—a total of seven levels, one to fit everyone desiring to become competent to counsel.
FREE Breakfast
If you are attending the ACBC Conference, Mid-America invites you to a special FREE breakfast on Wednesday, October 5, 8:00 a.m. It will be held on the Mid-America campus, right across the street from Bellevue Baptist Church on Appling Road. You'll get the chance to meet Dr. John Babler and receive a free copy of his book, Dr. Babler's Pocket Handbook for Biblical Counseling. Stop by the Mid-America booth at the ACBC Conference for more details.