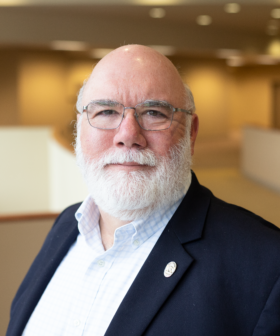 Dr. John Babler grew up in Dallas, Texas, and even though he had attended church much of his life, he was not saved until he was 20 years old. Shortly after being saved, he was called into ministry. Having grown up in a Presbyterian church, he began to prepare for ministry as a Presbyterian. He began his studies at Princeton Theological Seminary. The summer before he enrolled in Princeton, he met his wife-to-be (who was a Southern Baptist), and she challenged him on the issue of infant baptism. As he completed his first semester at Princeton, he also researched infant baptism. He ultimately concluded it was not biblical, leading him to become a committed Southern Baptist. After marriage, Dr. Babler and his wife moved to Fort Worth, where he earned master's degrees from Southwestern Baptist Theological Seminary and The University of Texas at Arlington in 1989. After serving as the Program Administrator at a Children's Home in Amarillo, Texas, they returned to Fort Worth where Dr. Babler earned his PhD in 1995.
In addition to the Children's Home, Dr. Babler has served in inner-city missions, as a youth minister and associate pastor in local churches, as minister of missions, and in hospice. He has been active in the emergency services for over 20 years serving as a volunteer firefighter and chaplain and as a police chaplain and officer. In 2020 he retired as a Professor at Southwestern Baptist Theological Seminary after teaching for 28 years and began his service at Mid-America. Dr. Babler has published three books on biblical counseling, authored journal and blog articles, and contributed to other works as well. In addition to formal academic classes, he teaches a variety of workshops and certificate training in Biblical Counseling and chaplaincy.
Dr. Babler and his wife Marilee were married in 1984 and are blessed with 11 children and 12 grandchildren.
ASK ME ABOUT:
Biblical counseling
Starting a counseling ministry
Crisis counseling
Grief counseling
Police and fire chaplaincy
Chaplaincy as mission
John E. Babler, PhD
Chairman of the Department of Biblical Counseling
Professor of Biblical Counseling
Education
MSSW, University of Texas at Arlington; MA, Southwestern Baptist Theological Seminary; PhD, Southwestern Baptist Theological Seminary.
Teaching Experience
Professor of Counseling (also taught Social Work, Ministry-Based Evangeliam, and Pastoral Ministry) at Southwestern Baptist Theological Seminary, 1995-2020. Held Warren C. Hultgren Chair of Ministerial Counseling.
Field Experience
Minister of Missions, Birchman Baptist Church, Fort Worth, Texas; Missions Associate, Baptist Community Center, Fort Worth, Texas; Served as associate pastor and youth minister in local church settings.
Other Experience
Police Officer and Chaplain, Forest Hill Police Department, Forest Hill, Texas; Fire Chief and Chaplain, Edgecliff Village Fire Department, Edgecliff Village, Texas; Social Work Coordinator, Huguley Hospice, Fort Worth, Texas; Program Administrator, The Children's Home, Amarillo, Texas.
Writings
Counseling by the Book, Revised and Expanded Edition, Edited with Nicolas Ellen; Biblical Crisis Counseling, Not if, but When; Counseling by the Book, Co-Authored with David Penley and Mike Bizzell; Journal articles and blog articles published by the Journal of Biblical Counseling, Southwestern Seminary, Association of Certified Biblical Counselors, National Hospice Organization, and National Association of Christians in Social Work.