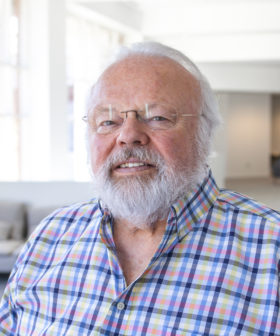 "Succeed on purpose" has been the guiding philosophy of my entire life. Growing up in a God centered family; I learned that success was always possible with God as the center of your purpose. As a small child, I attended Oak Grove Baptist Church every time the doors were open. I accepted Jesus when I was 12 and was baptized that same year. The church and family became the center of growing up with strong faith-based learnings. I say even today, I was born a poor, rich kid, no money, but rich in faith. My Mother was my strongest supporter, and when I would say to her that I wanted to become thus and so, which changed frequently, she would always encourage me by saying, "Buddy, you can become anything you want, and succeed as well, as long as you do three things, 'Have faith in yourself, faith in God, and work hard.'" With God the center of your purpose, success is inevitable.
I have been married to my wife Vickie for 44 years. Thirty years of this time she acquired, owned, and managed the retail jewelry store, James Middleton Jewelers, that her father had founded in 1954. We have been members for 10 years of The Orchard Church in Collierville, where I have worked as a leader of the Middle School Boys Group and have served frequently as an usher.
It seems I have worked all my life. When I was 14, I started work in a small country grocery store owned by a German couple where discipline, integrity, and hard work were taught on a daily basis. This beginning led at age 16 to my employment at the A&P Supermarket where I worked part-time while attending high school, and I became the full-time bakery manager at age 18, upon high school graduation. I began to attend night classes at night at a small business college, the Baltimore Institute, where I earned a degree in accounting. Upon graduation. I was very fortunate to launch a 17-year career with the Agricultural Chemical Division of W.R. Grace & Co., a multi-national conglomerate, then the 42nd largest company on the New York Stock Exchange. What a training opportunity, moving through various financial and accounting management positions rapidly, even doing short assignments financial trouble shooting in other Grace divisions. I had continuous learning in the process with management-level programs at Harvard and other corporate level management training programs.
During this stint of my career, I became a Certified Public Accountant, which further leveraged my career. Because The Becker CPA Review Course had helped me so much to achieve my CPA, I became a Becker Instructor for eight years and helped hundreds of students to pass the CPA exam. As a CPA, for over 30 years, I completed 40 hours per year of Continuing Professional Education primarily courses focusing on Technology and Management Advisory Services Programs.
While at Grace, I was recruited by Coopers & Lybrand to become CFO for an old-line family-held company that was having financial problems. Next, I started, along with a partner, a steel processing and distribution company which did not survive the early 80s of 19 and 20 percent interest rates and had to close.
Leveraging these years of experience and network contacts, I formed G.W. Blevins & Associates, Inc., a management and financial consulting firm where for 20 years I performed a variety of engagements with closely held and public companies. The latest of these consulting engagements was at CVS Pharmacy, a Fortune Top 50 company, where I consulted for five years performing various assignments covering financial, retail, and warehousing and distributions operations. These assignments encompassed strategic planning, budgeting, marketing and data analytics, including developing their first data warehouse.
I transitioned from consultant with CVS to become Vice President of Third Party Administration (TPA) for the next five years. After reorganizing the Third Party Administration department and helping absorb a 2,200-store chain drug store acquisition, I was able to take an active role in corporate growth strategies. I lead the formation of a foundation named The CVS Community Pharmacy Center for Excellence that strategically targeted community pharmacies' role in the overall healthcare delivery continuum (Minute Clinics, etc.). During my tenure, TPA had a staff of 32 and administered over 3,000 Managed Care, Prescription Benefit Management (PBM), Medicare, and Medicaid contracts encompassing $17 billion in prescription sales.
After a 10-year stint at CVS, I returned to Memphis to work with my wife Vickie, in the family-owned retail jewelry store, James Middleton Jewelers. Also, I served on the Dean's Advisory Board University of Tennessee College of Pharmacy in Memphis for 12 Years.
Over the years, I have enjoyed membership and participation in the following:
American Institute of Certified Public Accountants (AICPA)
Tennessee Society of Certified Public Accountants (TSCPA)
Financial Executives International (FEI)