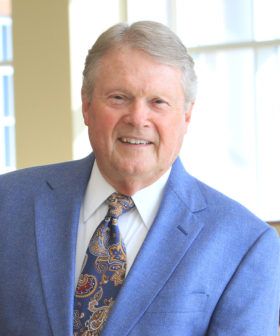 Dr. Whitmire, who grew up in and around Atlanta, GA, serves as Instructor in Music and Worship at Mid-America. He trusted Jesus as his Lord and Savior at the age of 15, while teaching in a Vacation Bible School in Piketon OH. At that same time, he surrendered his life to full time Christian service and began to lead worship as opportunities arose. While earning a BA degree in Music from Stetson University, Deland, FL, he married Linda Dooley of Rockledge, FL. He went on to attend Southwestern Baptist Theological Seminary in Fort Worth, TX. In 1999 he was awarded an Honorary Doctor of Music degree from Liberty University, Lynchburg, VA because of the body of his life's work.
In 1958-62 Dr. Whitmire served as Minister of Music at First Baptist Church, Winter Park, FL, while attending Stetson University. In 1962-75 he served as Minister of Music at the First Baptist Church in Merritt Island, FL, with Dr. Adrian Rogers as Pastor. In 1975-2005 he served as Worship Leader at Bellevue Baptist Church, Memphis, TN, with Dr. Rogers. In Florida and Tennessee he worked a total of 38 years with Dr. Rogers as his pastor. After retirement in 2005, he served First Baptist Church, Dallas, TX, for nine months as interim Minister of Music. Following Dallas, he served another nine months at Germantown Baptist Church, Germantown, TN, as interim Minister of Music. In 2007-2013 Dr. Whitmire served as Worship Leader of First Baptist Church, Jacksonville, FL, with Dr. Mac Brunson as Pastor. It was in 2013 that Dr. Whitmire joined the faculty of Mid-America Baptist Theological Seminary.
Dr. Whitmire has served on five Hymnal Committees and has also served as a clinician for music conferences at Glorieta, NM, Ridgecrest, NC, MusicCalifornia in San Diego, CA, New Orleans Baptist Theological Seminary, New Orleans, LA, Golden Gate Baptist Seminary in San Francisco, CA, and for the Southern Baptist Sunday School Board, Nashville, TN. He has served in churches across the United States, South America, and Europe.
Under Dr. Whitmire's leadership, his Children's, Youth, Handbell, and Adult choirs have toured and sung in 38 states and Disney World, Brazil, Canada, England, France, Germany, Israel, Jamaica, Romania, Spain, Switzerland and Uruguay. His Youth and Adult Choirs have sung in eight Southern Baptist Conventions, and he directed the music for four of those.
Dr. Whitmire introduced the use of banners in the 1988 Southern Baptist Convention in San Antonio, TX, Bible Banners in 1997 Southern Baptist Convention in Dallas, TX, and Revelation Banners in the 2006 Southern Baptist Convention in Greensboro, NC. He produced the "Singing Christmas Tree," "Memphis Passion Play," "Celebrate America," "Christmas Majesty," and various children's musicals while in leadership at Bellevue Baptist, with more than 100,000 decisions for Christ over 30 years. He has also produced Passion plays for First Baptist Church, Dallas, TX, First Baptist Church, Jacksonville, FL, Germantown Baptist Church, Germantown, TN, Mid-America Baptist Theological Seminary, and the Uruguay Baptist Convention. He continues to produce and direct Handel's "Messiah" every December at Mid-America, since 1986.
Dr. Whimire's wife Linda ministers to women by sharing her considerable experience serving as a minister's wife. She faithfully models what it means to serve as a mother at home (Titus 2:4-5), raising six children (three boys: Wade, Joshua and Luke, and three girls: Kelly, Wendy, Shannon), 10 grandchildren, and two great-grandchildren. Mrs. Whitmire has sung solos and taught Children's Choir for years, and continues to sing in the Adult Choir and in other productions.