Mid-America Passion Play Auction Gala
Thursday, November 3 from 6:00 pm - 9:00 pm
Campus, 2095 Appling Road, Memphis, Tennessee 38016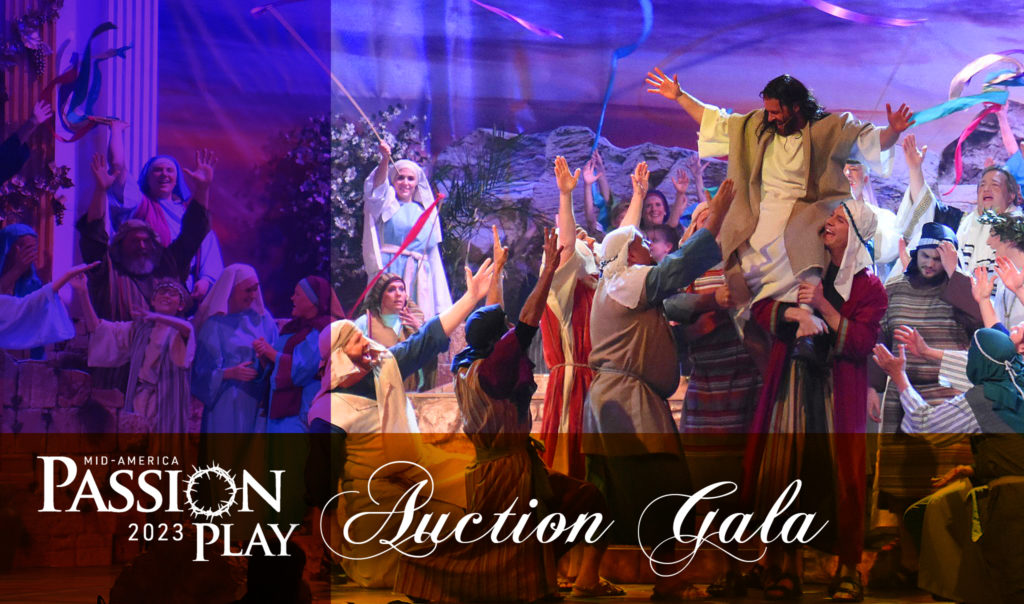 Join us for our upcoming Mid-America Passion Play Auction Gala and Dinner, Thursday evening, November 3, 2022, at 6:00 p.m. This unique event will benefit our 2023 Mid-America Passion Play presentations next Easter Season. The presentation would not be possible without your faithful prayers and support. At the Gala, Lance and Terri Walker will once again be our amazing hosts and auctioneers.
Once again, Mid-America Baptist Theological Seminary, Crossroads Baptist Church, and Love Worth Finding with Adrian Rogers will be our Passion Play sponsors. This will be our 5th year to present the Passion Play at Mid-America Seminary. Check the Mid-America Passion Play website for dates and preliminary information about the 2023 presentations. Tickets for performances, March 30–April 2, 2023, will become available in early 2023.
This year's Honorary Gala Chair is Angela Hunt, a New York Times best-selling author. Angela is a prolific writer with more than 150 published books to her credit (angelahuntbooks.com). Over five million copies of her books have been sold worldwide, and she has won many coveted and lifetime achievement awards. In 2007, her novel The Note was featured as a Christmas movie on the Hallmark channel.
It is essential to raise funds in order to provide a quality presentation of the Gospel with the goal of seeing many people come to know the Lord. The Passion Play Auction Gala and Dinner will help make the Mid-America Passion Play possible. We hope you will plan to attend this fun-filled and exciting fundraising evening. Here are several ways to participate and support the production:
Sponsorships

—We are offering companies, businesses, and individuals the opportunity to sponsor this production. Sponsorship levels are $50,000, $25,000, $10,000, $5,000, or $2,500. Sponsors will be recognized at the Gala and named in the program each night of the production.

Table Hosts

—Another opportunity is to host a table for the banquet. Tables are $800 for eight guests. The evening will feature an elegant dinner catered by Heart and Soul Catering. Along with dinner, guests will enjoy a live auction of exciting items plus a Fund-A-Need, where attendees will have the opportunity to give at different levels to help fund this production. Funds raised through the Passion Play Gala will finance the building of the set, costumes, promotional materials, and other expenses incurred in producing the Mid-America Passion Play. Any additional funds will go toward future set enhancements and auditorium improvements. All of these will not only benefit the Seminary, but would also help the Mid-America Passion Play in the coming years.

Prayer

—Lastly, please pray for this production of the Mid-America Passion Play, that it will be a witness for Christ to the entire Mid-South community. Thank you in advance for supporting this outreach and coming alongside everyone involved in this presentation through prayer.