Sep 7, 2019
Mid-America Hosts 2019 ACBC Conference
by Mid-America Communications
Mid-America Hosts 2019 Association of Certified Biblical Counselors Conference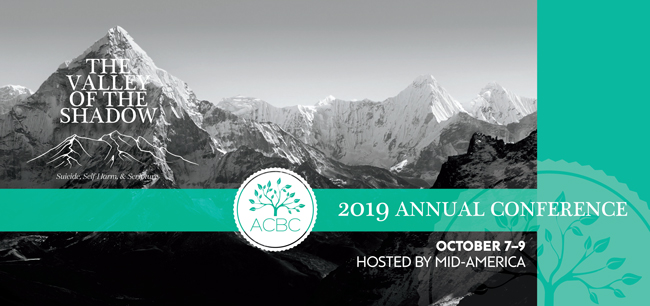 Mid-America is honored to host the upcoming Association of Certified Biblical Counselors (ACBC) Conference October 7–9, 2019. The conference theme is "The Valley of the Shadow: Suicide, Self-harm, and Scripture." It features more than 50 speakers with an expected attendance of more than 2,000 biblical counselors from around the globe. Bellevue Baptist Church is partnering with Mid-America for promotion and hosting.
"Hosting the ACBC conference is a great honor and provides both students and area churches with an opportunity to understand the sufficiency of Scripture and what it means to counsel from the Word of God nouthetically," says Dr. Timothy C. Seal, Dean of Mid-America Baptist Theological Seminary. "I urge you to avail yourself of this valuable opportunity. I trust I will see you there!"
Consistent with the long-standing pillar of a biblically-based approach to every discipline of study, Mid-America ensures our biblical counseling studies are rooted in the Word of God. Established in the belief of the sufficiency of Scripture, the goal is to develop a curriculum of training at Mid-America so that students learn how to counsel from the Word. Students also receive mentoring and additional opportunities to turn their instruction into practice.
When Mid-America created its counseling program, it surveyed the counseling landscape and found three approaches: secular counseling, integrational counseling, and nouthetic counseling. "Nouthetic" is a Greek term meaning "to put the Word of God into mind." Out of the three, the nouthetic approach, founded and popularized by Dr. Jay E. Adams, was, without question, the most firmly established in the principles of the Bible, says Dr. Seal.
Mid-America, in partnership with Dr. Adams, established degree programs in nouthetic counseling at every level— bachelor, graduate, and doctoral. Dr. Adams chose to grace Mid-America with the stewardship of his ministry, the Institute of Nouthetic Studies (INS), and the publishing rights to his books. This serves as a stamp of approval on the courses of study and positions Mid-America at the forefront for students desiring instruction in nouthetic counseling, says Dr. Seal.
Mid-America is the first fully nouthetic program of study and a strategic leader in teaching biblical counseling, he says. Every professor teaching in the counseling department enthusiastically holds to a nouthetic approach to counseling. Dr. Matt R. Akers, a professor in Mid-America's growing Biblical Counseling department, also works with Bellevue Baptist Church to provide a practicum for students in the biblical counseling program.
Conference schedule
Monday, October 7, 2019
Pre-Conference—9:00 a.m.–4:00 p.m.
Registration/Check-in—2:30–5:30 p.m.
Conference—6:00–8:45 p.m.
Tuesday, October 8, 2019
Conference—8:00 a.m.–8:45 p.m.
Wednesday, October 9, 2019
Conference—9:00 a.m.–4:00 p.m.